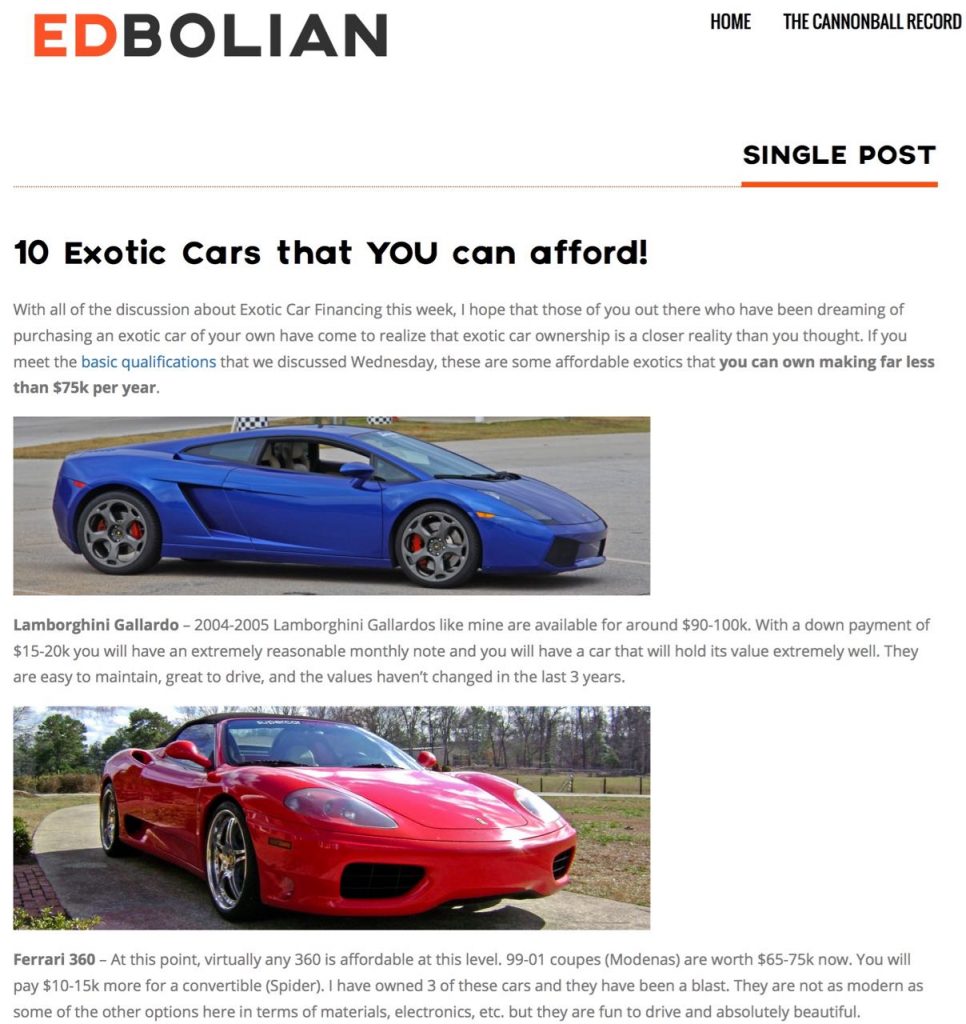 I was reading through some posts that I had highlighted over the last few months and came across one by a guy named Ed Bolian. He appears to be quite the car aficionado, having owned an impressive list of exotics over the years. One of the things I really like about his site are the posts about the accessibility of exotics most of us feel we can only dream about.
The post I bookmarked was titled "10 Exotic Cars That YOU Can Afford!" (click on the link to see the post). Ed takes a little different approach to affording an exotic. He outlines 10 cars that most people making a modest 5-figure income can afford. Before you dismiss this as beater cars or calling a 30+ year old Porsche 928 an "exotic" (which arguably it still is!), take a look at the list of cars:
Lamborghini Gallardo
Ferrari 360
Bentley Continental GT
Aston Martin Vantage
Chevrolet Corvette Z06
Dodge Viper
Lotus Elise/Exige
BMW M5/M6
Porsche 911 Turbo
Maserati Anything
Some cars that are sure to make any car person drool. In particular, I love the Lamborghini Gallardo, Ferrari 360 and my favorite the Porsche 911 Turbo. All of those cars minus maybe the Viper and Corvette would be on my shortlist to own for a period of time.
Ed makes a great point about owning these cars. Even with a $1500 to $3000 maintenance bill for something in need of repair, you're still going to end up with a car that holds more of it's value compared to a new car, or one on the more practical side of things.
Check out Ed's full post and thoughts on each car by visiting the link above.