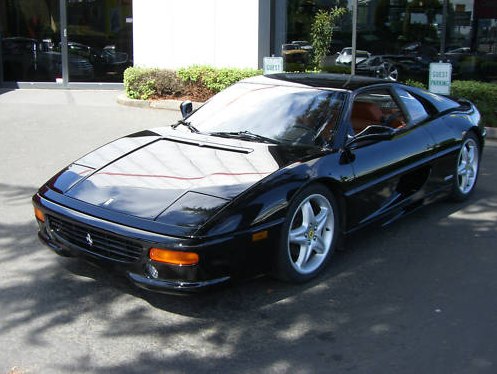 This is a heck of a deal on a 1996 Ferrari 355 Berlinetta. It's got just over 21k miles on it. Black with a cool Tobacco colored leather interior. It's a rebuild from a salvage title, but again, another great car you could just drive and enjoy. And at under $30k, is one heck of a bargain.
Here are details from the auction:
This is an impressively beautiful 1996 F355 Berlinetta, Black with Tabacco leather, 21,700 miles. It has a rebuilt salvage title from 1997, because some rock & roll musician bought it and wrecked it. The insurance company just called it salvage so the guy could go buy a new car, but the damage wasn't severe. No frame damage. No mechanical damage. All superficial. Then, a Rolex Sports Car Series race driver bought it and had it rebuilt by his crew, WITH ALL NEW FERRARI PARTS. He even got new heads to insure against valve guide problems (inherent in the earliest models).

I bought it 5 years ago, because I thought it was a great opportunity to fulfill my dream of having a true exotic high-performance Ferrari, at fraction of the cost of the garage queen collector car ones. And WOW, I got all and more of what I had hoped for. I've had it inspected by two different Ferrari dealers to search for any signs of residual accident damage, but neither could find any issues whatsoever. Neither dealers' service departments could even find where the original damage was! I had the 30K mile service done in 2007, but aside from that it's been absolutely trouble free. Change the oil once a year and enjoy it the rest. More reliable than a Honda, yet the technology of this car still surpasses the best family cars and sport sedans of today. Even the clock keeps near perfect time.

It drives and runs perfectly. It has the power and sound which should be expected in a Ferrari. With the power steering, it's easy to drive on the streets and the track. When it revs near the 8500 rpm red line, it's sound is intoxicating and musical. It's a truly exciting and beautiful car, with only the slightest of small imperfections to the finish, which are almost imperceptible. A thrill and a pleasure to drive, and a fantastic bargain for someone who wants to own a Ferrari to DRIVE, instead of just COLLECT. It's not a garage queen, but a great car for the enjoyment of driving and owning a Ferrari and experiencing it's real talents and pedigree on track day….just like it was designed and built to do.
Current auction price is only $29,900.
Here's a link to the auction page if you want to view more: Ferrari 355 Berlinetta
.