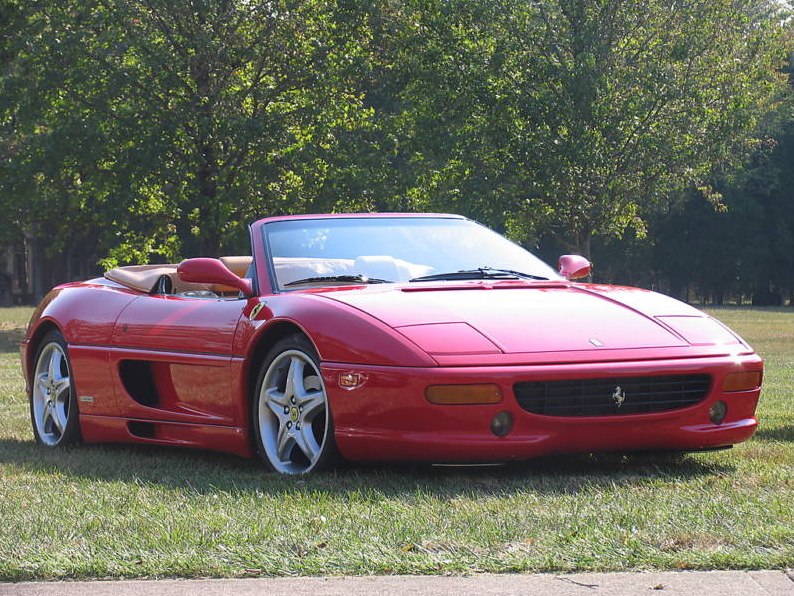 This is one heck of an amazing looking car. I've always loved the Ferrari 355 model and the Spider is just gorgeous. This is another one up on eBay. It's a 1998 Ferrari 355 F1 Spider with just over 20k miles on it. Classic Ferrari red with tan interior. The only problem is a salvage title due to water damage. Check out the auction pictures though. This owner looks like he has money to fix things up right and the description indicates he's done about everything there is to be done to the car.
I personally don't know that I'd be afraid of a flood title. You could have the thing checked out and as long as it didn't smell, why not?! It would be a heck of a daily driver and one you wouldn't have to worry about putting some miles on and just enjoying. Here's some info from the auction:
This 1998 F355 spider was purchased on Ebay 2-3 years ago as a project. This vehicle was involved in Hurricane Katrina and was sold on Ebay as not having an operable F1 transmission. I purchased the car knowing much work was needed. When the car arrived it was stripped to the skin and inspected. No real evidence of flood was noted (water line). The top appeared new and I have the opinion the hurricane ripped the top off and rained into the car.

Since that time I have POURED money into the vehicle. At the time I purchased this it was my second 355 and I didn't mind having the "flood" blemish on the title as I planned to use as a daily driver. The project went out of control in my pursuit for perfection, I have replaced the ENTIRE rear engine wiring harness with factory new. I've installed the Scuderia Rampante "gold connector upgrade" at most engine connections. The transmission TCU and harness were replaced. The ENTIRE interior including gauges, dash (complete NEW assembly from Ricambi), steering wheel, carpet was all replaced with NEW. This car has no sticky switches anywhere. Interior was tastefully recovered by Fernando at Prestige upholstery in North Hollywood. Interior is tan stitched in black thread, prancing horse embossed on headrests. Vehicle has new JVC nav/video/CD unit with Polk audio speakers.. A/C blows ice cold. Main ECU was replaced, F1 pump replaced, F1 actuator replaced, clutch replaced. Fresh engine out major service including all belts, hoses, plugs, plug wires, etc. The exhaust has been upgraded to Fabspeed stainless headers, hyperflow cats, Tubi Challenge exhaust. Tires are brand new on custom wheels with Hill Engineering spacers. Needless to say it shifts perfectly now….
Here's the clincher…this thing is at $30,000 with no reserve. A screaming deal.
Check out the auction here: 1998 Ferrari 355 F1 Spider
.