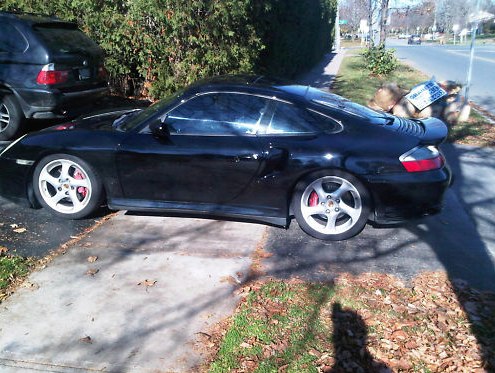 This is a heck of a deal on a 2002 Porsche 911 Turbo. Up with no reserve. It's black with black interior and just over 105k miles. Seller even says it has an existing warranty.
Here are some details from the auction page:
This is my 8th Porsche, have to make room for my new Turbo, which is virtually identical because I definitely got this one right! Fully loaded with the right factory options: Tiptronic, full stage 3 carbon fibre, Alcantara suede headliner, supple leather heated power seats, memory drivers seat, special order contrasting seat inserts, headrest crests, park assist, factory stage 4 dark tint, white-to-black instrument dials; plus the appropriate modifications installed by Porsche dealer tuning division: Chipped (low-end mapped), intake, exhaust, lowered coilovers; Kenwood touchscreen NAV & DVD movies in full 5.1 DTS surround sound, supported by 3 Alpine amplifiers @ 1,200+ watts through 7 speakers (incl proper center channel) and 2 X 8″ subwoofers mounted in a custom-made & ported enclosure, cell mount, Bluetooth. Just serviced, all good for it's age. The car has been driven & cared for properly, and is extremely dependable; it has a few scars, scratches and the typical front bumper stone chips found on highway-driven cars . It's had a few fender benders and it has a few personality quirks (as all good Porsches do!), but it's a great car with a great warranty at a great price, and it would make the perfect holiday gift, for that special loved one …or for yourself, ENJOY!
Price last I checked was $29,400. That's a killer deal on a great car.
Here's a link to the auction page: 2002 Porsche 911 Turbo