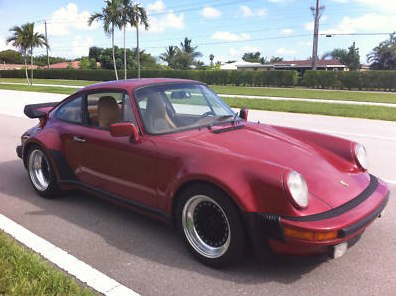 I came across this 1976 Porsche 911 Turbo look a couple of days ago. Now, many will poo poo a Turbo "look" car, saying it should be all or nothing, but I beg to differ. A Turbo look can provide all the styling and many of the same handling characteristics as the real deal without the expense of maintaining a Turbo. Sure the 2.7 liter Porsche engine is not the most desirable, but it still affords a HECK of a lot of fun for a bargain basement price.
This Porsche 911 Turbo look has a burgundy exterior with a tan interior. Not sure on the miles.
Here are some details from the auction:
This auction is for a 1976 911S. This 911 was professionally converted to a Wide body by a former Porsche collector/dealer. We purchased this Porsche for export to our native country, but unfortunately regulations involving importations have made this venture seem to much like work. We are therefore putting it up for sale as with our other vehicle.

This is a very clean 911. It is straight and rust free. We have gone over the entire vehicle mechanically with a fine tooth comb. It needs very little mechanically so please bid with confidence. The body will need paint but there is no rust what so ever. The tires and wheels are excellent and in great shape with no curb damage. The interior is very clean as you can see in the pictures. This 911S was originally orange but evidently was repainted in a Red/Burgundy metallic. The AC is missing the compressor buy all the connections are otherwise present. The carpeting is decent as is the leather; which is actually very nice.
Auction price was just $7,100 last time I looked. The only thing I'd be a bit concerned about are the sellers. That's a little out of the ordinary, so you'd just want to do your homework first. Anything near or under the $10k or $11k mark would be great for a car like this.
Here's a link to the auction page: Porsche 911 Turbo Look