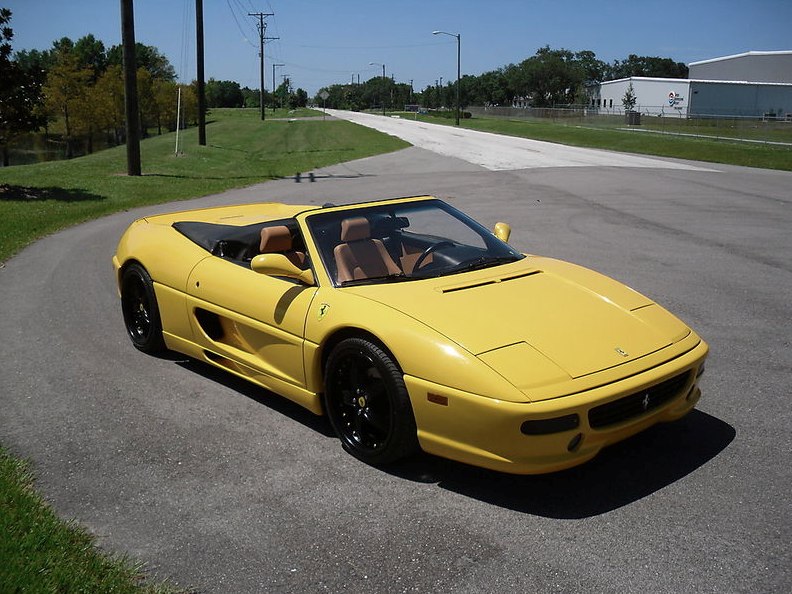 This is one fine example of a Ferrari 355 Spyder. Yellow with tan interior. I like the blacked out rims on the car, although stock 355 or even 360 wheels would also look great. The car has a rebuild title, but as long as the work was done at a reputable shop, I wouldn't hesitate to offer in the $30k's for this car. Especially if the seller has receipts showing a recent major service.
Here's a little more from the auction page:
Ok, Here's an amazing Ferrari F355 Spyder. This beautifull car has just gone major, major service and needs nothing mechanically. it has all seals, belts, clutch,plugs serviced and replaced and it is ready to go.

This Ferrari has a Tubi exhaust system that according to Ferrari enthusiasts makes for the best sounding Ferrari on the F355 motor. I spend excess of 11,000.00 in service on this car and have all reciepts. All parts came from Ricambi America and are Ferrari original parts. It drives amazing. It's incredibly fast and fun and you can't go between lights without someone paying this car a compliment. The top works manually and the tires are 95%. The wheels are black with yellow accents and the Ferrari Scuderia on them.
Buy It Now is at $40,000, with a Make An Offer option.
Here's a link to the auction page to view more pictures and info: Bargain Ferrari 355 Spyder