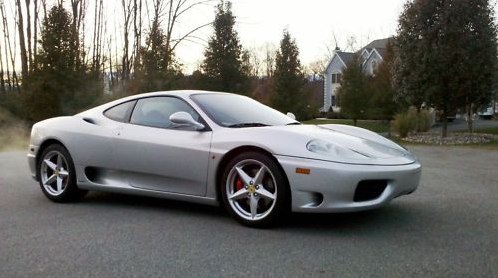 The deals keep poppin up. Glad the cheap Ferrari deals are back on!
Today is a Ferrari 360 in silver with black interior. Great great looking car. This one has just at 21,500 miles on it and looks like an honest review of the car's condition.
Some details from the car's auction page:
This is the least expensive Ferrari in the country, feel free to check around online for yourself. Please do not email me regarding offers, the price is set for sale as this 2000 360 by far has the most extensive service and replacement work done out of any car available, right done to an entire fluid flush coolant and all. I had unneeded things updated just because I loved the car so much, so please don't waste either of our time. This is the most mechanically taken care of car of all available.

Rated a 91 of 91

Everything that can be needed to be done to a pre-2002 Modena has been done. I attached pictures showing the recent records all from 2010, showing i had $19,000 worth of just service and upgrade work done to the car. New clutch, hoses, belts, upgraded F1 hydraulic pump (post 2002), TCU and Tubi exhaust upgrade. The car runs and sounds great, like a real formula one car. The work was done by www.ccferrari.com

Also I have every take-off part from the car. When the work was done I requested the original clutch, throw out bearing, basically every part replaced on the car, I kept. I still have the factory exhaust as well if interested buyer has any interest in having that as well.
Lots of car for the money. Buy It Now is set at $66,900.
You can see more pictures of the car here: Ferrari 360 Bargain Exotic