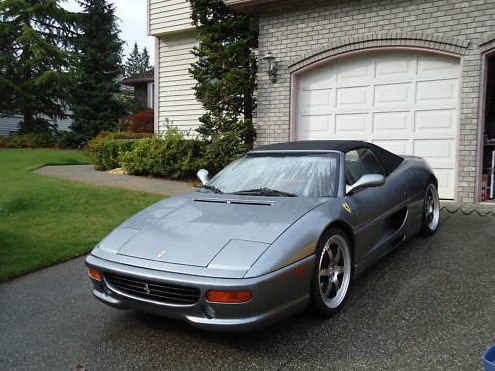 I can't believe how many deals there are out there. This time it's a 1999 Ferrari 355 Spyder. It's got a salvage title, but at the price it's being offered at, who cares?! This is a car that could definitely be driven and enjoyed without the worry about mileage decreasing the value by much.
It's a convertible with silver exterior and black interior. Decent looking wheels, although I'm not in love with them. Right at 28k miles on it.
Here are some auction details:
BODY IN VERY GOOD CONDITION, TOP IN VERY GOOD CONDITION,  NEEDS HYDRAULIC WORK HAVE ITEMIZED INSPECTION FROM FERRARI OF SEATTLE

WITH COST TO REPAIR ON REQUEST, SALVAGE TITLE WAS FROM CAR BEING STOLEN AND MANY ITEMS RIPPED OFF

IT WAS REBOUGHT BY PREVIOUS OWNER FROM INSURANCE CO. WHICH REPLACED STOLEN ITEMS.
It's currently at $16,100 with about 6 days left. Buy It Now is only $27,000. Even if you had to put some work into this one, you could be in a heck of a Ferrari for under $30k!
Here's a link to the auction if you want to see it live: 1999 Ferrari 355 Spyder
.