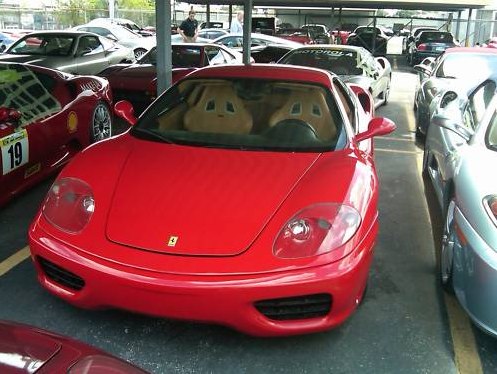 I promise to start adding in other bargains I'm finding, other than just Ferraris. This is just too much though. The market for the 360 is softening nicely for those of us who want a "late model" Ferrari at bargain basement prices.
This is a 2001 Ferrari 360 Modena. Red with tan interior and only 23k miles on the odometer. Looks like it's in great condition and up to date on service. It's got the F1 Transmission as well. Sweet!
Here are some brief details:
2001 FERRARI 360 MODENO F1

CAR IS IN EXCELLENT CONDITION AS IT HAS JUST HAD 30K IN SERVICE BY FERRARI OF HOUSTON….PLEASE CALL FOR DETAILS.

ONLY 23,000 MILES AND IS EQUIPED WITH THE F1 TRANSMISSION OPTION
It's up for auction on eBay with no reserve and is at $62,400.
Here's a link to the auction page: Ferrari 360 Modena
.