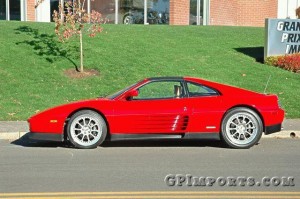 1990 Ferrari 348 Coupe – $35,000
(Offered @ GPImports.com)
For less than the price of a Mini Cooper ($5k less to be exact, there's a Mini on the same lot!), you can snag this Ferrari 348 Coupe.  A Ferrari has been on my list for a long time.  This would be a great car to own.
Some details:  The 348 is powered by Ferrari's 3405cc V8, it produced 300bhp at 7200rpm and 237lbs-ft at 4200rpm. The V8 was installed longitudinally in the 348, bolted along with the transmission and rear suspension into the removable tube-steel rear sub-frame, a significant innovation.  Top is in excellent condition, vehicle is clean inside and out with only two previous owner, come by and look at this phenomenally kept 348. Only 31,731 miles.