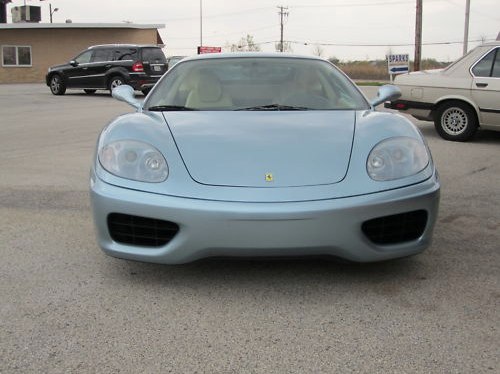 This is unbelievable. There are plenty of bargain buys on these used Ferrari 360's in the low to mid $60k range, but one actually UNDER $60k.
It's a 1999 Ferrari 360 Modena in silver with black interior. A bit understated, but at that price, I'd drive this car all day long. I think the silver actually looks classy and the black/light tan interior is pretty dang sexy looking. It's got just over 42k miles on the odo and appears to be in great condition with recent services completed.
Here are a few more details from the auction:
Exterior is in excellent condition!!! No known flaws or dents,rockers are smooth and scratch proof.  It has a great service history according to the carfax report. Service records are avaliable on carfax. The car is in excellent driving condition and runs strong. F1 shifters are extremely easy to use. If you dont like shifting on your own you have the option to press the auto button and she shifts on her own. She has a great sound from the tubi exhaust. If you are into more aggressive driving you can click the sport button and all I'm going to say is hold on!!! Interior is in excellent condition as well as the daytona style seats . Also fitted with a rare and expensive Ferrari Factory Carbon Fiber Package. She is the best value of a high quality Ferrari in the country. Freshly serviced, including oil change,Filters,Lube,Spark plugs, engine inspection.
Buy It Now Price: $57,500!!! Heck, I'd even consider making an offer of $55k. At that price, if you had to put money into fixing nagging or neglected problems (as nearly every car on eBay has), you'd still be in the bargain Ferrari range.
Here's a link to the auction page for more pictures and details: Cheap Ferrari 360