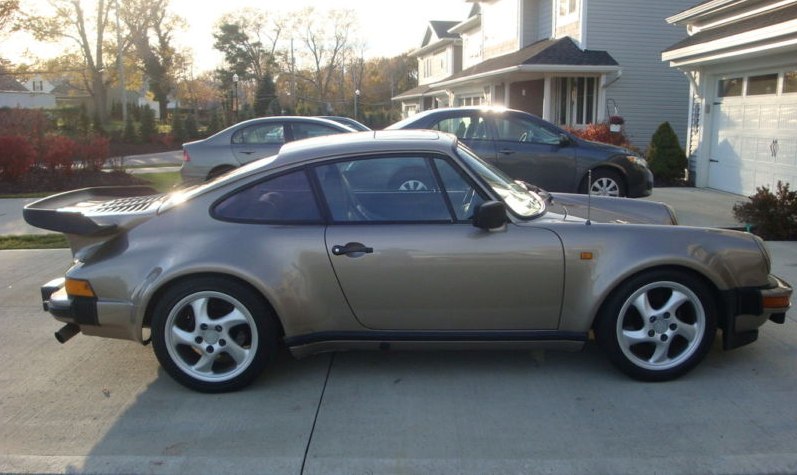 One of my dream cars is a Porsche 930. I've mentioned before that I'd really like to find a 1978 or 1979 Porsche 911 Turbo (also known as a 930). This is a gray market car that is Euro spec, but sounds like a sweet ride. Some great upgrades with a lot of potential for an owner.
I wouldn't be one bit afraid of the Euro spec. Have it checked out and if it looks good, jump on it. Sounds like the current owner has put a lot of money into the car.
Here are some details:
Here is a gorgeous 1981 Porsche 930 Turbo which is ready to drive anywhere.  It recently had a turbo rebuild on 10-21-10 and is in perfect running order along with an oil and filter change.  The car is extremely fast and has good tires (about 80%) all the way around.  The car is Champagne exterior and Brown interior and the paint is very glossy and I would rate it 9.75 on a scale of 1 to 10.   The interior is very clean overall with no rips or tears in the front seats or rear jump seats.  The car would rate a 8 out of 10 as far as the interior goes.  The wipers, power windows, blinkers, kenwood cd/radio system, headlights, brakelights all function properly.  The turbo pulls strong through all 4 gears and all the glass, bumpers, wheels are very very clean.  This car comes along with $55,241.00 worth of service records and repair receipts including the oil change and turbo rebuild on 10-21-10.  The car is a Euro model which gives it a better overall look and the widebody style is very impressive and turns heads everywhere.
This thing went for $23,500 just a couple of weeks ago. There are PLENTY of deals like this on eBay, Craigslist, Oodle and other classified sites.