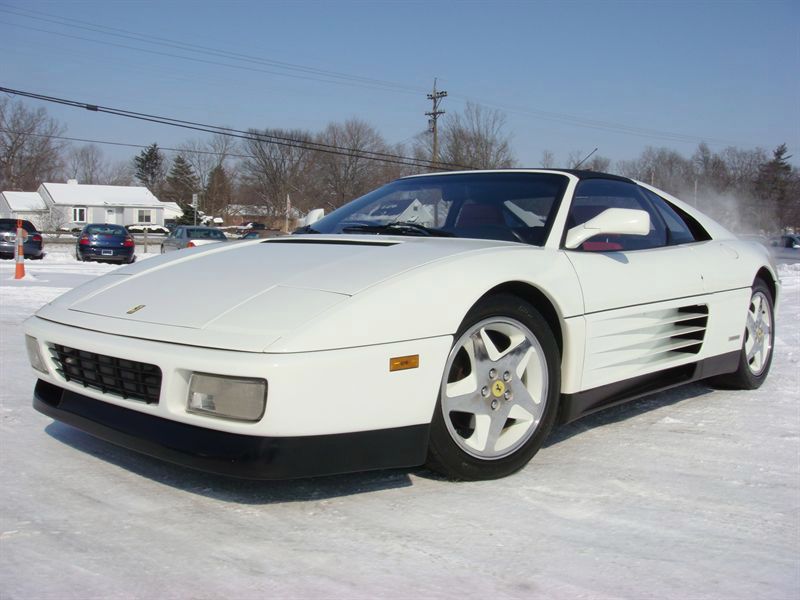 I love the Ferrari 348. A red 1990 Ferrari 348ts (featured in the early days on BargainExotics.com) was my first Ferrari and I would buy another one in a heartbeat. It was a great car and a blast to drive. I love the styling and the resemblance to the Ferrari Testarossa.
This is a white 1990 Ferrari 348 ts with red interior. It's got some great aftermarket wheels, but includes the original wheels if that's your thing. Has the Tubi exhaust, so it will sound even more amazing. Just under 24k miles on it. Here are some details:
Absolutely pristine, rare color combination, super low mileage, original paint, accident free, show quality 348 TS finished in Bianco (White) over lipstick red leather interior with black upper hides and red carpets. This is a locally owned car that has always been serviced here by it's previous owner who has had the car for the past 13 years. He purchased it in 1997 from the local Porsche dealer where it was traded on a new Porsche and just sold it to us as he was retiring and moving to Florida. The paint is all original except for the usual front bumper painted for stone chips. The paint is in perfect condition with no dings, dents, or scratches to be found anywhere. It has the usual stress marks where the c pillars meet the quarters, but otherwise the paint is absolutely flawless. The interior of this car is absolutely incredible. It has none of the wear usually found on a Ferrari of this vintage. There is absolutely no dash shrinkage, no faded carpets, no worn out seats, shrunken door panels, and no gummy or scratched center dash plastics. The car had the original wheels when we purchased it but upgraded them with a set of all new Modular style 18″ wheels with all new Z-Rated max performance tires. The original wheels are included with the car. In addition, this car has a stainless steel tubi exhaust system and sounds as great as it looks. This car runs and drives absolutely like new with no problems, issues, or vibrations whatsoever. This car is absolutely incredible inside, outside, and the way it sounds and drives. It has been regularly serviced with yearly maintenances only. I have no record of any major service, although one may have been done without my knowledge. I have just had the car fully serviced in our ASE Master Ferrari service department including all fluid flushed and a complete check over. We have also completed a full compression and leakdown test for your piece of mind with no problems found whatsoever. It comes complete with all the books in the original leather binder. If you are looking for the cleanest, best color combination, low mileage 348 around, don't miss out on this pristine example. Compare this to any others for sale and there is no comparison, this car stands shoulders above the rest.
This is up for $36,995. I'd make an offer of $32k or $33k. When the exotic car market comes back around, this should easily move up to the $40k range.
Here's a link to the eBay auction page: 1990 Ferrari 348 TS
.