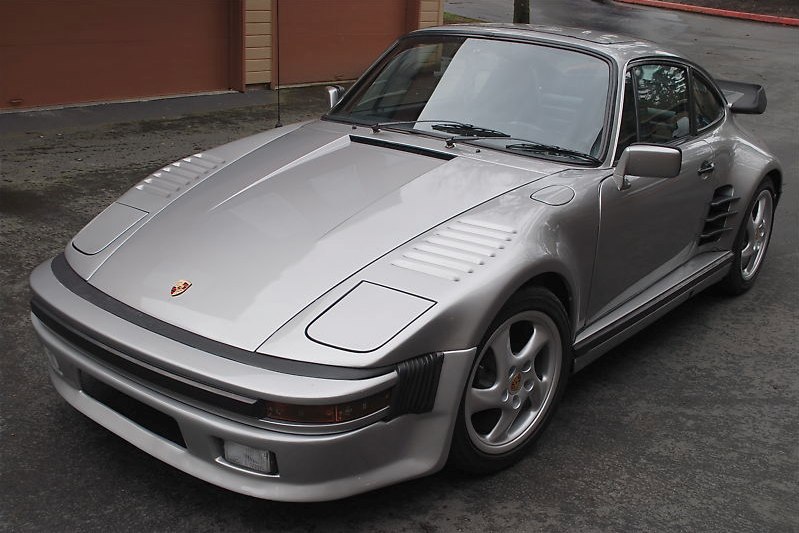 Today's bargain is a little different. I found this beauty on Craigslist. It's a 1975 Porsche 911 Turbo Look Slantnose. The color of this car is absolutely amazing in my opinion. I LOVE the gray with black interior. It also has some nice engine modifications to enhance the fun factor. Just over 57k miles on er.
Here are some details from the Craigslist ad:
I love this car, and the only reason that I'm selling it is because I'm becoming a father, and this is not really a practical "daddy" car.

The car has 57,xxx miles with a CLEAR TITLE. A new $12,000 engine was installed and has only 7,000 miles on it to date. I have all the records for this. This car is NOT TURBO. It is a 2.7 with 6 carburetors, high performance installed by Porsche and some other parts.

Runs and drives great. Fuel lines and the clutch are new. Has a set of 2004 wheels with new Dunlop tires, in excellent condition with about 95% rubber.

Moon roof works perfectly and does NOT leak. Doors, locks and mirrors are fine, power windows work just fine. All lights work.
The dude is asking $19,000 for it. Sounds like a reasonable price and I'd offer a few grand less, especially since it's been up for a bit now.
The thing that would make this car cool, aside from it being a Porsche 911 Turbo Slantnose, which sets it apart from most Porsche 911 Turbos you're going to see around town, is the fact that it has the non-turbocharged engine. Sure you're going to miss some fun factor, but the maintenance requirements and costs decrease dramatically when you're not dealing with a Turbo motor.