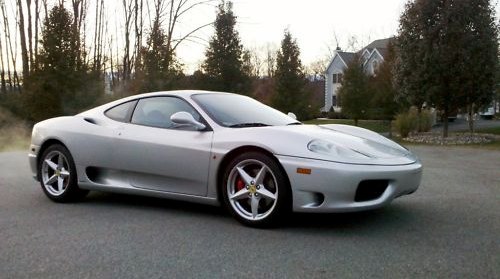 Yet another deal on a Ferrari 360. This time, a 2000 Ferrari 360 GT. Silver with black interior. Just under 20k miles on it with what appears to be all the recent service work required to keep it up to date.
Here are some details from the auction page:
I am selling my 2000 Ferrari 360 Modena. Everything that can be needed to be done to a pre-2002 Modena has been done. I attached pictures showing the recent records all from 2010, showing i had $19,000 worth of just service and upgrade work done to the car. New clutch, hoses, belts, upgraded F1 hydraulic pump (post 2002),  TCU and Tubi exhaust upgrade.  The car runs and sounds great, like a real formula one car.  The work was done by ccferrari.com.

I also have a PPI inspection report, the car is currently being stored at Ferrari Lamborghini tech in Lodi NJ.

Also I have every take-off part from the car.  When the work was done I requested the original clutch, throw out bearing, basically every part replaced on the car, I kept.  I still have the factory exhaust as well if interested buyer has any interest in having that as well.
Currently offered for a Buy It Now of $66,900. I'd offer a few grand less and see what happens. If it's truly up to date, be a great bargain.
Here's a link to the auction page: Ferrari 360 Bargain
.