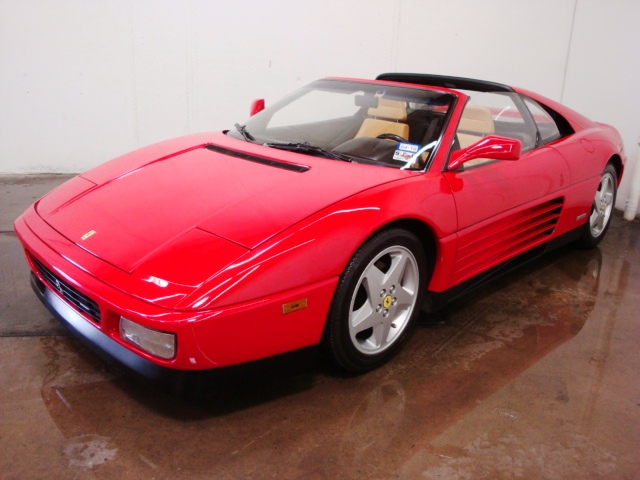 I still think the Ferrari 348 is one of the few bargain Ferraris left out there. It embodies everything that makes a Ferrari a Ferrari, yet has not been picked up by the enthusiasts and priced out of the ballpark for many who dream of owning a Ferrari.
Today is a 1991 Ferrari 348 ts. Just 47k miles on her. Red with tan interior…absolutely THE color combo for a Ferrari of this era in my opinion. Even includes original Ferrari luggage and floor mats.
Here are some details from the auction description:
THE CONDITION IS ABSOLUTELY MINT!!! The paint and the body are shiny and in great condition. Interior is in Great shape, with almost no wear. Exterior is in good condition. There is on small blemish on the edge of drivers door please refer to the picture. Rims and tires are in great condtion. Everything works AC, CD Player, the vehicle drives and shifts perfect. All suspension is operating as it should. Also there is a small oil leak trips about quarter size in a week. All pictures are recent. The previous owner took excellent care of this Ferrari, and it shows! Tires (front 70%) (back 70%), non-smoker, Certified Real car from a Licensed and bonded dealer 100% clear title.
Get this…the auction ended at $30,995. A HECK of a deal!
There are lots of Ferrari bargains out there if you're willing to look.