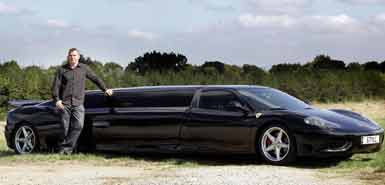 What do you get when you have a Ferrari 360, 9.5 feet of hand-built carbon fiber, and too much time on your hands? Only the world's fastest limousine!
Dan Cawley who lives in the U.K. decided to stretch his Ferrari 360 Modena. The car is now 20 feet long and can scoot on up to 166 mph. I wonder what the ride is like at that speed?
The only problem is Ferrari corp is upset. They sent a letter to Cawley demanding he remove the Ferrari names and "360 Modena" badging from the car. They claim that since he grafted in the 9.5 foot section of hand-built carbon fiber to stretch the car, that it's no longer a Ferrari.
Doesn't it seem kind of crazy that a company you bought a car from can tell you what to do with the car?! It's not like there's going to be a rush of people going out to chop up their Ferraris as a result.
[Via TimesOnline.co.uk]