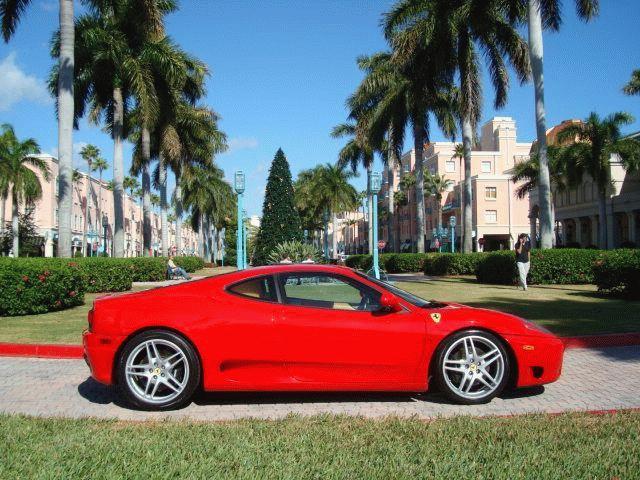 Another Ferrari 360 Coupe that went for an incredible price. This is a 2000 Ferrari 360 F1 Coupe with recent service according to the auction description. It's a great color combo (arguably the ONLY color for a Ferrari) with red exterior and tan interior. I like the Ferrari 430 wheels, plus it has a Challenge Exhaust. Under 27k miles on the odometer. A gorgeous car to say the least.
Here are a few more details:
Introducing the 2000 Ferrari 360 Coupe F1. Have you been dreaming of owning a gorgeous Ferrari but did not want to pay the new car price or get harassed at a dealership? Here is your chance to own this 360 Coupe at a huge discount to a new one and without the stress! This esteemed vehicle is the true definition of power, durability, precision, and dependability, it has a CD Changer, Ferrari Fender Shields, Power Seats, F430 Wheels, Challenge Exhaust  AND FULLY SERVICED  This eye-catching Ferrai is a gorgeous Red with a Tan leather interior. The color combination is stunning as this vehicle waits to take you anywhere in style. You will also have a piece of mind as this 100% Carfax certified vehicle. No accident or damage history, all parts are original, and extended warranty programs are available. You are worry-free when bidding on this beautiful Ferrari 360 Coupe F1. Look at the pictures below and judge for yourself how nice it looks. This fantastic Ferrari will definitely impress your family, friends, and neighbors. This is your chance to own a 360 Coupe F1 at a price you've always heard about through the internet.
Reserve was not met when the auction ended at $65,000. The thing is, the Buy It Now price was just $71,900. The car has a SOLD logo over it, so maybe it ended early. Great looking car, especially if it included service history and proof of recent service.
Lots of deals to be had on eBay, Craigslist, local ads, etc.