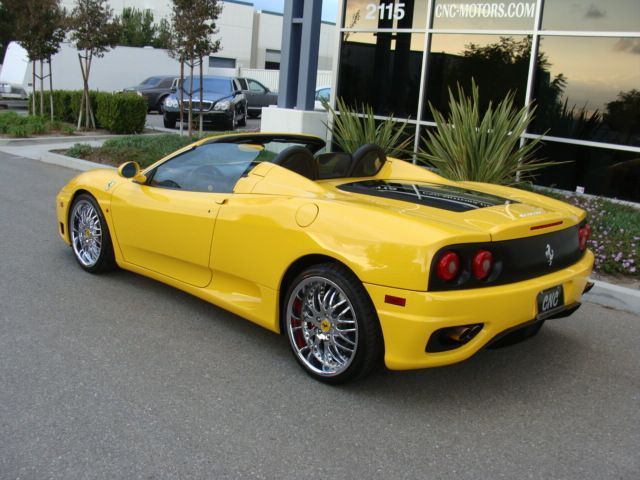 The headline on eBay for the auction says it all: "2002 FERRARI 360 SPIDER YELLOW BLACK CHEEEEP", even though CHEEEEP is missing an A.
A yellow Ferrari would be my second choice behind Red. Black interior would be perfect on this car. The convertible looks simply amazing on the 360.
It's got just over 30k miles on it, which means its been driven a bit. Looks like there was some minor damage at some point, but as long as it was repaired by a reputable place, this would be a heck of a price on a great car. Even has Daytona seats.
Here are some more details from the auction page:
2002 FERRARI 360 SPIDER, YELLOW OVER BLACK, LOADED WITH OPTIONS, NEVER SMOKED IN, CD, DAYTONA SEATS, ELECTRIC SEATS, REAR AND FRONT GRILLS, F-1, SHEILDS, CUSTOM WHEELS OR STOCKS, CAR HAS A LIL TINY HICK UP ON CARFAX AND AUTO CHECK, PRIOR OWNER HAD PULLED UP ON TO A CURB AND INTO A HEDGE AND NEEDED, TO REPLACE THE WHEEL AND PAINT THE FRONT BUMPER
Buy It Now price is at $69,999.
Here's a link to the auction page if you want to see more pics: Cheap Ferrari 360
.