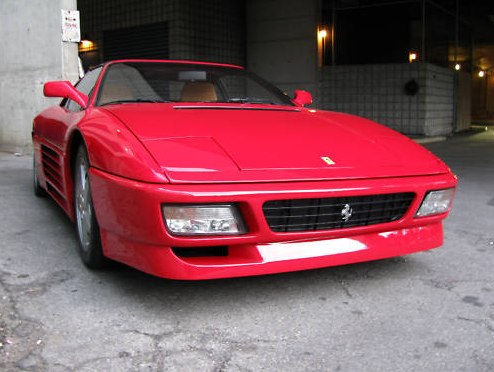 This time it's a 1990 Ferrari 348 TS. Perfect color combo of red exterior with tan interior. Looks to be a in great shape with some nice mods like Tubi exhaust and the bottom trim painted to match the car.
It's in Canada, but bringing it in to the U.S. shouldn't be that big of a deal if you use a reputable importer. Auction is at just under $23k right now with only about an hour to go.
Here are some more details on the car:
1990 Ferrari 348 TS euro spec VIN: ZFFFA36S000086023. First delivered July 1990 in Switzerland and imported from Geneva in May 2005. Currently has under 54kms. Full engine out service and tubi exhaust installed when purchased 5 years ago. Has had the front and rear bumpers professionally painted (stone chips) and they are in great shape (only a few marks on the front bumper). Recent tires, always garage stored, never driven in the rain.

The car is tight and nimble, starts up right away, pulls hard. The A/C, HVAC controls work flawlessly (known issue on some cars), no dents, dash in great shape, no vibrations at highway speeds, brakes straight and without any pulsations. Has an aftermarket immobilizer (works great) and battery disconnect. This is an excellent example of a clean, solid, unmolested 348.
Here's a link to the eBay auction: 1990 Ferrari 348 TS
.