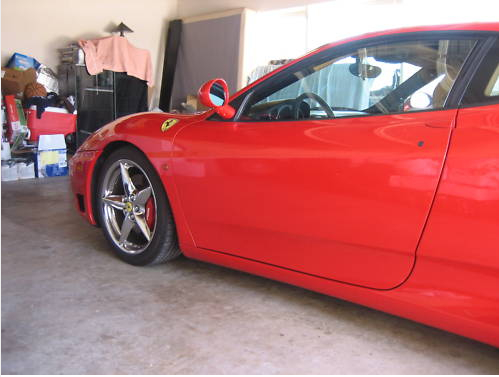 This 1999 Ferrari 360 Modena has a starting bid of only $38,000 on eBay. There's a reserve, but many of these 360's are going for screaming deals in the $60k and $70k range. When I first started watching these (just before the economy started tanking), it was tough to find any for under $100k.
This one would need a little TLC, but it's still got lots of life in it. It's a bit higher on the mileage scale with 75,500 miles, but the seller is promising a full belt service as part of the sale. This would be a great driving car you wouldn't have to worry about babying. Here's some info from the auction:
Chrome wheels, Tubi exhaust, Red calipers. Needs work on the front bumper. Front bumper is scuffed beyond repair underneath, needs new front bumper. (From steep driveways only) Driver's side leather seat upper sides parts need repair.  Last 60k miles driven in Southern California. This car was serviced well by an independent and driven often. Needs new headliner. Purchase price will include new timing belt and complete service before delivery. Engine, transmission and suspension are still in excellent condition. Paint nicks and all over the front from driving on the highways. This car was virtually problem-free. Except for a few ignition coils that went out when I washed the engine. I found out that the housings crack over time and water enters and ruins them. No check engine light, no smoke, passes smog check every time. (the '99 has a special procedure, of course) The 1999 360 has only two catalytic converters and no secondary air injection system.