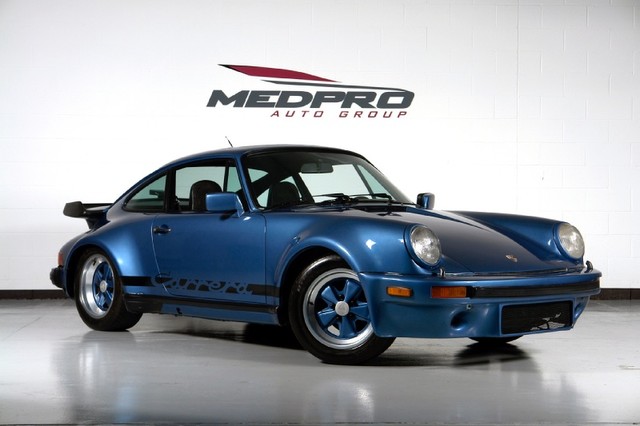 This is a gorgeous looking Porsche 911 Turbo Look from 1979. It looks like it may be a 3.0L car, which would be a great engine (one of the most desirable of early 911 models). It's blue with a black interior and the turbo conversion uses metal fender flares, which is key in these conversions.
Here's some more info from the eBay page:
1979 Porsche 911 Carrera finished in Heritage RS motif. It's a full metal wide-body conversion, the car looks like an 1986 or newer model due to the headlight washers, whale tail and third break light. The condition is great for the year, paint and interior looks good, nicely upgraded Alpine CD player and amplifier, car starts, drives and sounds like a true Air-cooled (6cyl.3.0L) Legendary Porsche. I love this car and the opportunity it will give to so many. At this realistic price, anyone can afford to experience true performance and timeless styling. It's for the guy that wants to bolt on a turbo and basically have a 930 for $15K! / Or the individual that buys it, parks it in their garage and tells all their friends "Come check out my Porsche" with no worries at this price, then drives it as needed for a huge smile on their face! Never thought you could afford such a great German Sports Car… Well here is your chance. We can ship anywhere World Wide! NADA BOOK Low $15,000 – High $22,8000
Right now it's at $11,888 Buy It Now or Make Offer option. I'd offer $9,500 or $10k even. Be a great car for the money.
Here's a link to the auction page: Porsche 911 Turbo Look
.